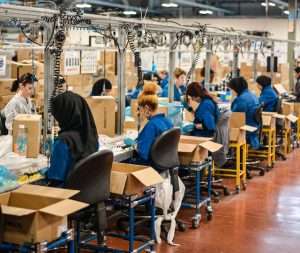 The current economic and social upheavals are also changing the world of work. Digitalisation with the increased use of artificial intelligence, biotechnology, climate protection policy, restructuring of the energy supply and more are likely to be accompanied by an increase in unemployment, but also the creation of jobs. How are working conditions changing? Will the polarisation between rich and poor increase? Will unemployment and health insurance, long-term care insurance and pensions continue to be financed through employment in the future? What are the characteristics of work in the so-called platform economy? How can we imagine basic income and sustainable work? What characterises the job guarantee of Modern Monetary Theory? How should state economic and fiscal policy be designed to make the transition socially just for workers?
Colleagues from Austria, the Czech Republic, Ireland, Poland, Spain and Germany are developing a learning platform on these and other questions as part of the project "Time to Fresh Up: Cultivating Economic Literacy for Resilient Work in Europe". It will be freely accessible to all interested citizens. In addition to an introduction to the respective topic in simple language, "deep divers" can deal with it in depth using the longer version. Adult educators will receive didactic suggestions for working with groups. In interactive exercises, further perspectives on the topic can be developed and knowledge deepened.
Resilience in relation to work is often associated with reducing stress and creating a pleasant working environment. In the context of this project, the horizon of consideration also includes social and political framework conditions for resilient work and a 'resilient' economy – in the sense of sustainability and well-being.
Partners
AVITEUM s.r.o., Prague/CZ
TRANSIT PROJECTES, Barcelona/SP
WIRTSCHAFTSUNIVERSITÄT WIEN, Vienna/AT
Financial Justice Ireland, Dublin/IRL
WYZSZA SZKOLA EKONOMII I INNOWACJI W LUBLINIE, Lublin/PL