… free Theatre (2017)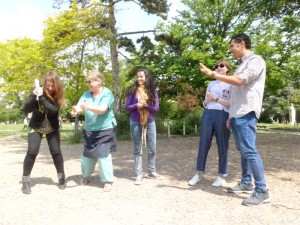 During this project we focus on the experiences that you have made with change and a life in change. The experiences can be very different. If you flee and come here from Afghanistan, Iraq, Syria or other countries, for example, you leave your life behind and start again. The same happened to many people after the democratic change of 1989/90, the introduction of the Deutschmark and the subsequent restructuring of the East German economy. Much was new. Some things were as hoped for, others were disappointing.
From hopes and fears, experiences of success and failure, frustration and fulfilment, joy and anger, power and powerlessness we develop theatre scenes. Every meeting starts with games and exercises. They brighten up and strengthen self-perception, expressiveness and the perception of space.
The meetings are led by Mirella Galbiatti, actress and theatre pedagogue in Berlin and Buenos Aires.
WHEN: Each 1st and 3rd Thursday of the month, 16-19 o'clock
WHERE: STZ neighbourhood house Kiek in, Rosenbecker Str. 25/27, 12689 Berlin (S-Bahn station Ahrensfelde, bus 197, 390, tram 16, M8)
A project of Kiek in – Soziale Dienste gGmbH in cooperation with weltgewandt. Institute for Intercultural Political Education, funded by the IFP STZ (Neighborhoodwork & Culture of Welcoming).